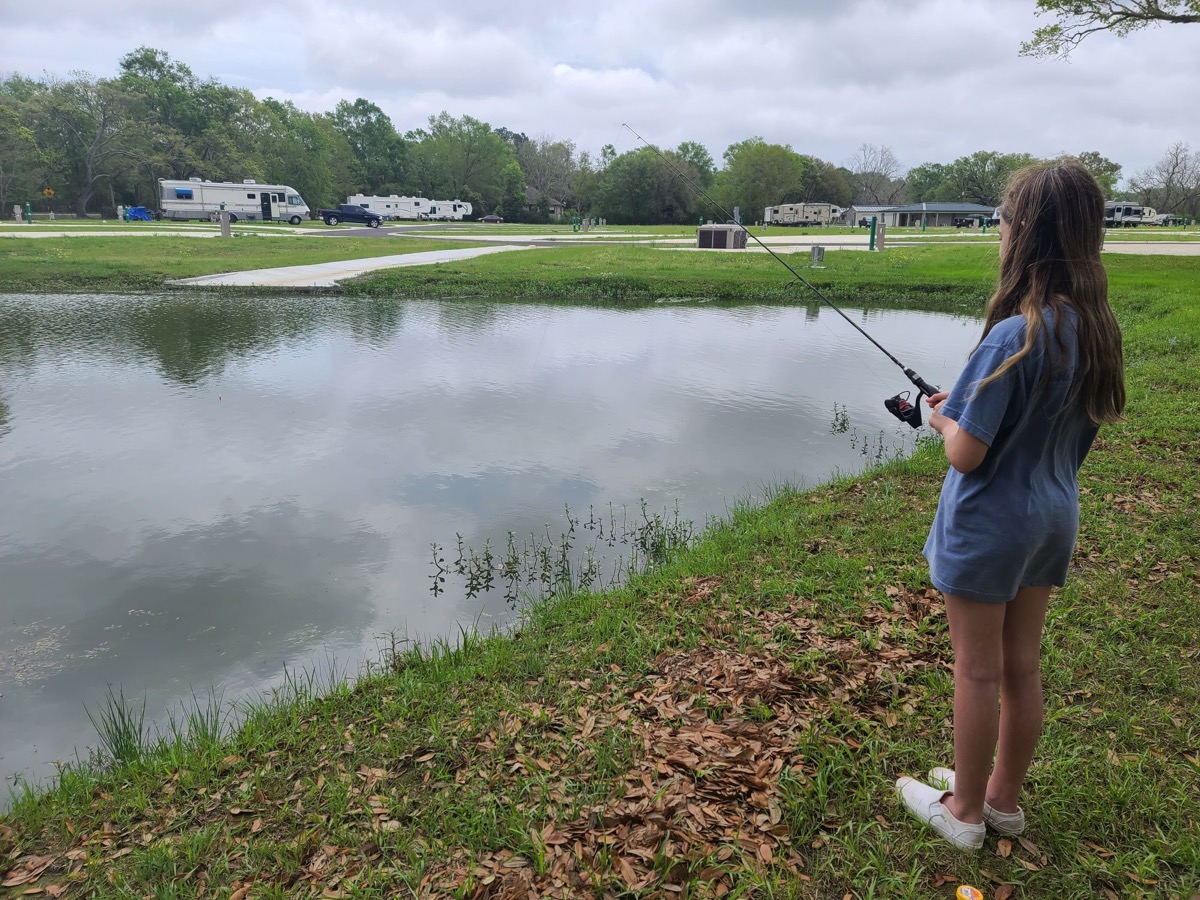 New RV Park in Mobile, Alabama
Homestead RV Community is a unique experience in the Mobile, Alabama area dedicated to satisfy the specific desires of the discriminating RV owner looking for a spacious, clean and affordable RV park. The amenities that separate Homestead RV Community from other RV parks are immediately apparent when you turn West off of the busy Dauphin Island Parkway onto tree lined Bay Road to travel 7 tenths of a mile to Pioneer Road. The entrance to Homestead RV Community is one hundred feet South on Pioneer Road. Both Bay and Pioneer Roads are black top, but with so little car traffic, they are safe for bicyclist. Homestead RV Community is a distinctive RV campground nestled in a quite intersection reminding everyone of a quiet, country environment. A true feeling of safe, wholesome, clean, laid-back country living, where…
Convenient! RV Campground in Mobile, AL
• State-of-the-Art fiber optic cable through the entire community
• Private Therapeutic Jetted Hot Tubs with lockable cover available
• Large sites with the smallest being 40' X 82'
• Perfectly flat concrete pads
• Child and pet friendly
• Community laundry service
• Friendly staff live on site
• Free daily trash pickup at your site
• Organized community activities
• AND MUCH MORE!
Ed O. Bridgman's Dream
Ed, our owner, is an Air Force veteran with a background in Electrical Engineering and an MBA. While an Electrical Design Engineer he co-authored "Six-Sigma Quality Initiatives", earning Motorola the 1st Malcom BaldridgeAward from President Ronald Reagan. He has been a Six Sigma consultant for 30 years, helping companies in a variety of industries reduce operating cost and increase profit margins while exceeding their customers' expectations.
For the past few years, Ed has been consulting for the RV Industry preparing Feasibility Analysis, Business Plans, Site Design Layouts and Project Managing the construction of RV Parks, RV Campgrounds, Resorts, and Communities. Ed helps…
I am glad I was recommended to this location when I was looking for a place to stay for a few weeks. It is an amazing campground. The staff is constantly taking care of the property. The management is prompt and efficient. From the very first telephone call to the time of departure they made sure we had all our bases covered. The place is extremely clean. The facilities are great and very well kept. I slept better than in a 5 star hotel at this camp. Definitely worth more than 5 stars.
This is a first class RV park. From the fishing pond to the camp sights. There is a lot of room between the campers and all sights are concrete. The bathhouse is clean and the park is clean. You could not go wrong staying at this park. The staff is supper, help full, and friendly. Our stay was grate there. So I give this place 5 stars.
We have been to a lot of RV parks out of them Homestead is by far one of favorite parks. The people are friendly, the park is very clean. It is a great place close to shopping, good restaurants, an Bellingragh Gardens. I have 2 dogs and they loved to walk around the lake. It was a very serene relaxing week.
We were welcomed with a big smile and hello. Then escorted to park our RV. Lovely view over a pond that entertained fish, turtles and birds along with the odd fisherman, dog and child playing. Cute swings in the trees to idle the evening away. Pristine amenities, helpful friendly hosts, gorgeous RV park. Wish we could have stayed longer.
Newly built! RV Park in

Mobile,

Alabama. Five Star RV Resort in Mobile and Dauphin Island, AL area. Join us for a first class RV Camping experience at our well managed and pristine RV Campground. High speed internet with fiber optic cable throughout the newly built RV park. Call today or make a reservation online.  Also, for all your Camper needs visit B&R Camper Sales https://www.brcampers.com/
Homestead RV Community
10550 Pioneer Road
Theodore, AL 36582
Looking for an RV Park, RV Camping or RV Campground in the Mobile and Dauphin Island area? Check availability here.